A note from the director's kitchen table:

The last time we had enough content and stories to share with you from the guide's perspective was in early April 2020, after a humdinger of a summer season. There is no need to detail the impact Covid has had on the global travel industry. At the start of the lockdown, we mentioned to you that we would undoubtedly ride out the storm and emerge on the other side stronger than before. At times it felt as if we were hanging on by a thread. However, thanks to some incredible industry support, a committed, dynamic, and adaptive team, that thread turned out to be as strong as that of the Golden Orb spider.

African Lynx is open for business and fully operational!

Since the month of May this year, we have been fortunate enough to have looked after a rather decent number of international (limited to the US) guests who have made it out to the Cape as part of their greater safari. For those brave (i.e. smart) enough to venture on safari this year have certainly been rewarded with the very high quality of their experiences. Our Private Guides' mention how incredibly special it is to explore the Cape and surrounding countryside without the hordes of tourists and with the abundance of fresh air which comes with travelling in Africa. The reduced pressure of not having to worry about queues when seeing some of the bucket list attractions adds to a far more enjoyable and flexible day – we certainly notice it back here in the HQ. Each guest is blown away by the Cape and cannot praise it highly enough.

While we are in a recovery, we are far from recovered. Thanks to vax hesitancy, politics (the UK is not making friends) and irresponsible journalism, the tourism industry in South Africa continues to swim through cement. Hopefully, sense will prevail. 2022 looks to be a bumper. Fingers crossed.

For those who are on the fence as to whether you should travel on safari to South Africa, take the leap. Listen to those who are on the ground and in the know. Not the media. You are in for the most memorable and rejuvenating experience! It is safe and most certainly, much needed.

The proof is in the pudding, so please enjoy the below photo essay of our past winter experiences with guests…from the guides' perspective.

Warm regards,
Daniel Sheard (Founder & MD)
We are super chuffed to have partnered with local apparel brand Freedom of Movement who keep our guiding team looking as stylish and comfortable as ever. From left: Don, Josh, Dan and Simon.
Private Guide Simon imparting his wealth of African penguin knowledge while at Boulders beach.
Some guest feedback:
"Team! We had the absolute BEST time in Cape Town. We could not have asked for a better experience, better weather, and a better tour guide than Ian. He was absolutely AMAZING and can guarantee our time in Cape Town would not have been the same without him and the help of the African Lynx team. We cannot wait for our safari trip now to add to what has already been the best trip to South Africa! Thank you again for all your help – you have made our honeymoon trip a dream come true!!"
– Amanda, USA. August 2021.
As there are limited numbers of tourists on the ground, guests have been able to experience most attractions to themselves. The best of which is the impact the lesser numbers of tourists have had on the penguins at boulders. Enjoy happy, stress-free penguins to yourself. 
Here we did a breakfast setup on the beach at Boulders. We got there early to take advantage of the morning light as these guests were avid photographers. Its pretty surreal to enjoy your morning coffee with the curious, waddling, penguins surrounding you.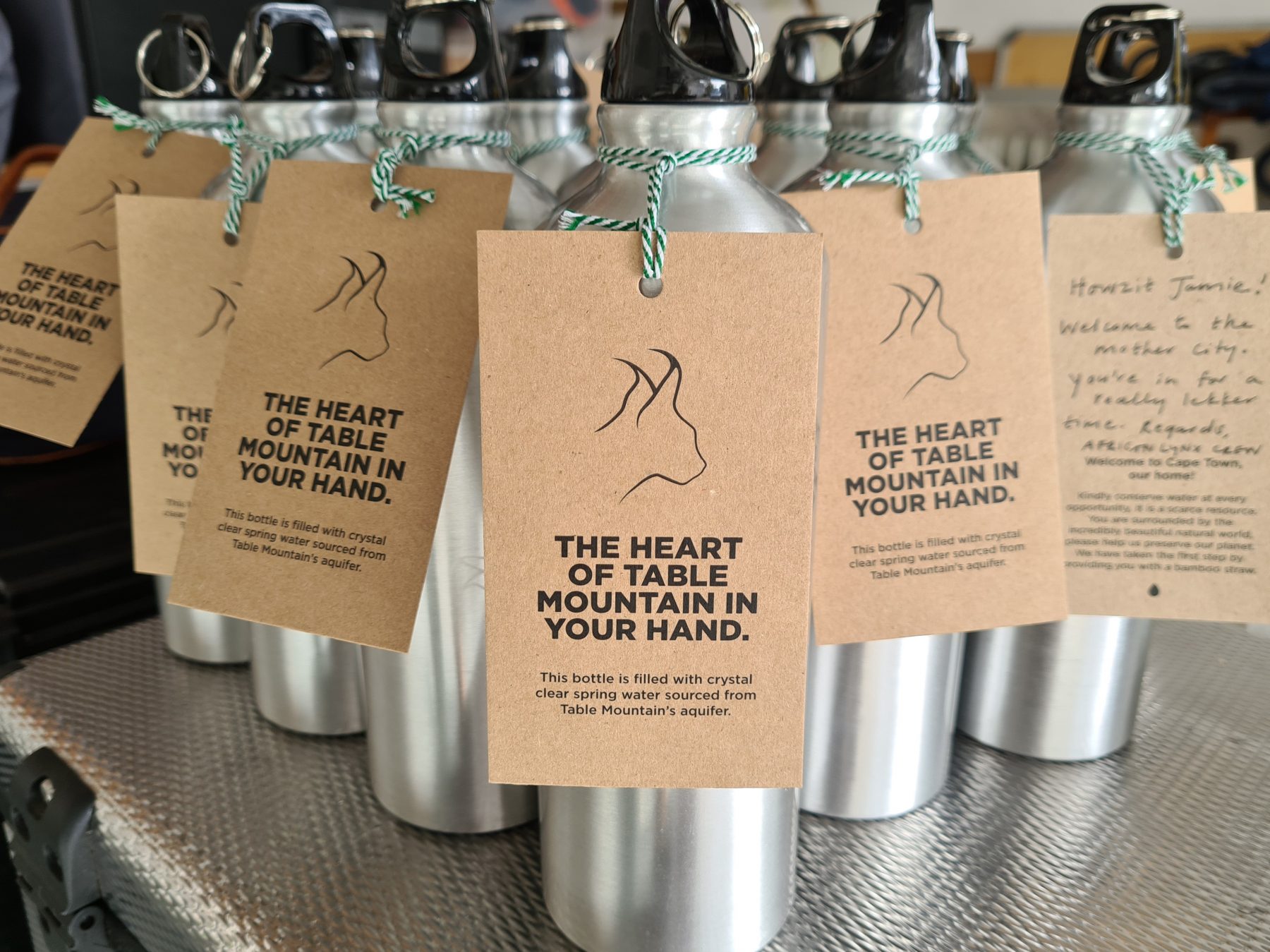 Some of the details that go into delivering the African Lynx experience. 
You have all heard of the Netflix documentary, My Octopus Teacher, which was filmed by Craig Foster in the waters of False Bay. One of our guests was such a fan of Craig and what he is doing for ocean conservation that we managed to get the Oscar-winner to sign his book and deliver it to the guest.
We were shocked by the sudden passing of our Gentle Giant, Rob Armstrong of Haut Espoir on the 20th August. Rob provided countless numbers of our guests with a fynbos walk and private cellar tasting. He was giant of a man, physically, however, it was his immense character that eclipsed even his size.
When it came to wine experiences, Rob was our secret weapon. If you could put up with his humorous and tasteful use of profanities, you were in for the most exclusive and authentic wine experience of your life. Hands down. 
Rob doing what he does better than anyone else. Comfortably settled behind the tasting counter of his farm, Haut Espoir, in Franschhoek. Rarely in life do you meet someone who finds a way into your heart so quickly. In his presence, his big and naughty smile was contagious. He had you hanging onto every word he said.
Rob, we will miss you enlightening (i.e. entertaining) both us and our guests on your biodynamic farming, your fynbos and all things natural knowledge, your passion for wine and funghi, those chicken wings and olives in the smoker, your casual uncorking of your 1st harvest 2007 Cab Sav and your spiritual connection to the Khoi San ancestors.
We hosted our largest group yet. A family-friends group of 17 pax! This required three Private Guides and three vehicles to ensure we delivered on our promises.
A fine example of the benefits of African Lynx Private Guides. The large group had a contingent of young children who were not interested in wine tasting in the rain. Private Guides' Don and Simon stepped in with a wildlife quiz consisting of photo, audio and spoor identification followed by target catapult shooting. The girls took the quiz and the boys the shooting. Prizes were sourced from the local market in Franschhoek. 
A covid-created anomaly. The Table Mountain Cable Car all to yourself. Have you ever.
Our latest and exclusive to African Lynx wine experience near Hermanus. Guests enjoy a "grape to glass" experience, where the full winemaking process is observed, glass in hand, in both the organic vineyard and wine cellar and in the company of the jovial and authentic winemaking duo, Paul & Doug.
We take our gourmet picnic lunches seriously. Note the location, deep in the Cape Point National Park.
The same goes for our spontaneous "padkos" stops. Best served from the vehicles tailgate. The idea is to enjoy a beverage of your choice and light snacks while taking in the incredible scenery the Cape offers. We are prepared but we don't plan for it. Should the location and the vibe feel right… 
Private Guide Josh, is a master at the "padkos" stop. Another epic setup for guests down the peninsula. Not captured is a bontebok which ran only meters from the group on its way to better grazing on the other side of the road.
Seal snorkeling is still the ultimate eco-friendly, all-natural marine wildlife experience – regardless of age. Our partners Animal Ocean are the pioneers of this experience and that's Chapmans Peak in the far background. 
Winter in the Cape. Its our rainy season with regular cold fronts but in-between those fronts, the days are always crystal clear and still. The views from the top of Table Mountain stretch to the edge of the horizon. 
This is also winter in Cape Town.
Read more articles from our journal
A note from the director's kitchen table: The last time we had enough content and stories to share with you from the guide's perspective was in early April 2020, after a humdinger of a summer season. There is no need to detail the impact Covid has had on the global travel industry. At the start…
Read more
A note from the director's kitchen table: The last time we had enough content and stories to share with you from the guide's perspective was in early April 2020, after a humdinger of a summer season. There is no need to detail the impact Covid has had on the global travel industry. At the start…
Read more